Ceremony Booklets
Private Albert Ernest Farrow, South Staffordshire Regiment
Gunner James Percy Green, Royal Field Artillery
Private Frederick Masters, Royal Defence Corps
Sergeant Ernest John Whitney, Royal Engineers
Private Edwin Clarence Bennett, Sherwood Foresters
Lance Corporal John William Blow, Argyle and Sutherland Highlanders
Driver Albert Ernest Booth, Sherwood Rangers
Driver Jonathan Goulding, Royal Field Artillery
Private Harold Webster, 2/5th Lincolnshire Regiment
Gainsborough WWI Roll of Honour
This is a copy of the Roll of Honour which was compiled in the early 1980s by Mr R. H. Johnson.
It has been expanded to include servicemen who are remembered on war memorials and who were listed in the Gainsborough News as 'wounded' and who subsequently died. The Roll of Honour is in PDF format.
Gainsborough's War Story book series:
Book One covers the years from 1914 to Mid 1915. £10 plus postage.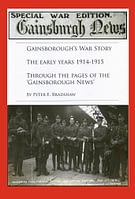 Book Two covers the end of 1915. From the "Hell's Kitchen" explosion – the first large-scale loss of life of local soldiers to the 60 plus soldiers from Gainsborough, and surrounding villages, who were killed in the attack at Hohenzollern Redoubt on 13th October 1915. £10 plus postage.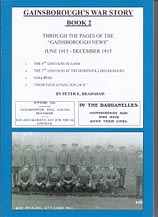 Book Three covers 1916. The book details what happened in Gainsborough and surrounding villages during 1916. 1916 was to see two of the most famous battles of World War One, the naval Battle of Jutland on 31st May-1st June and the Battle of the Somme which started on 1st July. £15 plus postage.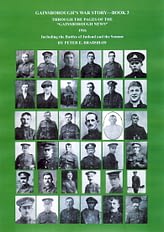 Book Four covers 1917. This book includes Gainsborough area soldiers involved in the 1917 battles at Arras, Passchendaele, and Cambrai. It also details the work of 33 Squadron whose HQ was at Gainsborough during 1917, it was tasked with defending against Zeppelins. They established an airfield at Saundby.
The book also tells the story of Conscientious Objector Alfred Martlew who drowned in the Ouse at York in July 1917. £15 plus postage.
The final book, Book Five covers the years from 1918 to the 1920's. The final year of the War is covered as well as the post war years. You'll also find information on Gainsborough's Munition Factories and Workers, the War Memorials in Gainsborough and Gainsborough's Roll of Honour. £15 plus postage.